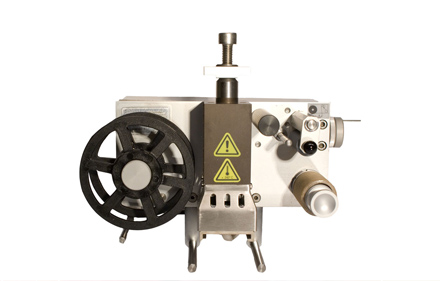 Thermal Transfer Overprinter (TTO) / Hot Foil Printers (Hot Foil)
Thermal transfer overprinting (TTO) is a modern digital printing process that provides an innovative alternative to hot stampers and other more traditional analogue printing techniques.
TTO technology is ideal for flexible substrates. This type of technology can be used to print on almost any type of flexible material.
Thermal transfer overprinting works by creating high-quality and high-definition marks, codes and images through a transfer of ink onto a flexible substrate from a coated ribbon. This ribbon is covered with waxresin compound or just resin, depending on requirements.
TTO printheads have small resistors that heat the print area swiftly and accurately – to transfer the relevant colour to the surface of the substrate. The fast on/off action is very precise, ensuring that the heat causes no damage to the surface of the substrate.
Thermal transfer overprinters can be used for either continuous or intermittent printing modes; making this technology suitable for a wide range of applications. These include, but are not limited to: Prices, Date and time codes, Barcodes, QR codes, Logos, Ingredients and other mandatory text or marketing messages.
The difference between TTO and direct thermal printing is that in direct thermal printing, there is no ribbon used in the printing process. However, leading thermal transfer overprinting machinery is engineered to use only a minimal amount of ribbon, which reduces wastage and means that this technology provides your packaging and labelling line with an economical and modern coding solution.
The benefits of choosing this technology for your business include:
• Extremely high-resolution print quality.
• The ability to code fast-moving products in real time.
• Optimum water-fastness, which is ideal for industrial label printing and coding.
• Wax-resin compounds and full resins can be used on materials such as polypropylene to increase durability.
• Solvent-free printing.
• Low cost of ownership due to the optimal use of ribbon.

Substrates
Flexible packaging like Plastic, Foil, Films (plastic or foil), Paper label stock,Flat packaging, Low-density polyethylene shrink-wrap, flow-wrappers, bags, tray seals, pouches, sachets, vacuum packs and other delicate materials.
Markets
Food and wrappers.
We have several Hotfoil and TTO Printers:
1) Kortho Hotfoil Printer M-40 - Max. Print area 20x40mm
2) Kortho Hotfoil Printer M-80 - Max. Print area 50x80mm
3) Kortho Hotfoil Printer M-150 - Max. Print area 100x150mm
4) Kortho TT-53 - 53mm continuous/intermittent TTO
5) Kortho Ribbons
6) Kortho Brackets